Indian Urdu Media's Dilemma: To Support Or Not To Support The Islamic State Of Iraq And Greater Syria and the Islamic Khilafat of Abu Bakr al-Baghdadi
By New Age Islam Edit Desk
8 July 2014
Urdu Press is by and large sympathetic to the Islamic State of Iraq and Sham. This can be seen in its acts of omission and commission. It completely ignored the news that the ISIS had asked the residents of Mosul to offer their daughters in Jiahd al Nikah to the fighters. It also mostly ignored two workers returned from Iraq on July 3, Safdar Kunhi and Mohammad Abbas, who narrated their harried experience of escape from Najaf. Mohammad Abbas had called ISIS militants "barbarians" and added that he had never heard of or seen anything like this before. He had said: "The violence is unparalleled, the brutality unbearable." But when one of Keralite nurses released from captivity praised the good behaviour of ISIS militants towards them, a section of Urdu media went overboard, blowing the news out of all proportions.
But at the same time, it has started giving news now, though in a guarded fashion, of Shia shrines and mosques being destroyed by these Sunni militants. As those of you who read Urdu can see in the accompanying visual, a scanned copy of a portion of the front page of Akhbar-e-Mashriq, a single column news item along side the overblown news of the Keralite nurses testimony also says: 'ISIS ne Iraq me mazarat aur Imambargahein tabah kar deen"( ISIS destroyed Sufi shrines and Shia mosques in Iraq).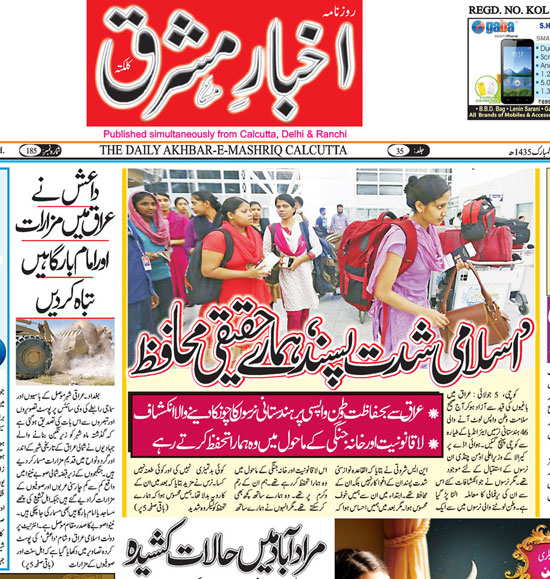 But news about a Kerala nurse giving a good behaviour certificate to ISIS militants had clearly overwhelmed the same newspaper. (See the accompanying visual.) Let us see this in greater detail. An Urdu newspaper Akhbar-e-Mashriq has made the story its cover story with the headline, 'Islami Shiddat Pasand Hamare Haqeequee Mohafiz' (Islamic extremists our real protectors) highlighting the positive and humane picture of the ISIS with reference to the statement of the nurse.
One of the Kerala's nurses who returned from Iraq after being released from the captivity of the ISIS made headlines in national media. She had purportedly said that the ISIS fighters were good people, they behaved decently with them. They did not make vulgar remarks about them and provided them food and bed to take rest. They were worried about their security and they could not be called terrorists. This news was carried with banner headlines.
However, Urdu media almost completely ignored the statements of two workers who returned from Iraq on July 3. Safdar Kunhi and Mohammad Abbas had narrated their harried experience and their escape from Najaf, Iraq to the media. Mohammad Abbas had said:
"For almost a month we were confined to our rooms in Najaf. The militants from the Islamic State of Iraq and Syria are barbarians. I have never heard of anything or seen anything like this before. The violence is unparalleled, the brutality unbearable,"
Speaking about the militants, Kunhi had said they were nothing short of barbarians. "They are barbaric, but mostly they targeted Shias and those who had gone to Iraq on a pilgrimage. We were told they killed pilgrims while they were offering prayers or performing Ziyarat. Pilgrims were captured and mercilessly killed and the situation was the worst in Samara."
Clearly while dealing with the ISIS, the Urdu media seems to be in a dilemma: to support ISIS or not to support the Islamic State which now also has a Khalifa?
You may recall terrorist and Sandal Wood smuggler Veerappan abducting legendary Tamil actor Rajkumar. After his release the actor had praised good behaviour of Veerappan and how the smuggler treated him warmly during his 108 days in captivity. But since he was a great actor, the media did not dare to criticise him for his effusive praise of a terrorist who had killed 139 policemen and thousands of people apart from destroying wildlife during his lifetime. His praise for Veerappan did not lessen the severity and gravity of his crimes as a Sandalwood smuggler and a terrorist. Mr Rajkumar's words were his personal opinion about his captive and did not affect the views of the government, Veerappan's innocent victims or the general moral values.
Other surviving nurses too said that their captors treated them well, though, they were not so effusive and did not go to the extent of saying that ISIS militants could not be called terrorists. The statement of one nurse who said that the ISIS cannot be termed terrorist has provided the already pro-ISIS section of Urdu media with the fodder to paint a favourable and humane picture of the ISIS. Definitely, being a woman, the nurse will feel greatly relieved at not being sexually assaulted in a region where women were especially the target. But her feelings should be taken as her personal feelings and not as any kind of moral certificate for the militants. While the act of not molesting nurses is praiseworthy, it does not make tISIS militants angels. We have plenty of evidence to the contrary. As for nurses, we don't even know why they had been kidnapped in the first place, by which particular group, and exactly how they got released.
What the nurse said is reflection of a psychological state when the captive loses hope of help from outside and relies solely on the mercy of the captor. In that situation, a slight relief in the torments from the captor is seen by the captive as a great relief and the captive starts to harbour a feeling of admiration for the captor. Captives praising their captors is not unusual. This state of mind is called Stockholm Syndrome. What Raj kumar said earlier or the nurse on Friday only reflects their psychological state of mind called Stockholm Syndrome. It does not speak of the reality on the ground.
What gives the lie to statements like ISIS Jihadis are kind protectors is the report published in the very next column in Akhbar-e-Mashriq, though, not so prominently. The adjoining news report in Akhbar-e-Mashriq about Sufi shrines and Shia mosques being demolished in ISIS-controlled areas repudiates the bright and positive picture a large section of the Urdu media has tried to portray of the ISIS with the help of the statement of one nurse.
It says: "It has been testified by the news and pictures posted on the social media and websites by the residents of Mosul that last month after overrunning the town, the jihadis destroyed many ancient mazars (shrines) in Mosul and other adjoining areas. In the northern province of Nineveh under siege by the jihadists, at least four mazars of Sunni Arabs and Sufis and at least six Imambargahs (Shia mosques) have been destroyed. Mosul is the capital city of the province of Nineveh. Pictures posted on the website of ISIS show mazars of Ahl-e-Sunnah and Sufis being bulldozed while the Shia mosques were blown off with the help of explosive devices. The post has the headline, 'Destruction of mazars (Sufi shrines) and idols (Shia imambargahs) in Nineveh province'.
"The residents have testified that these buildings have been razed and the militants have also captured two Cathedrals. An aged resident of Mosul said that he was sad at the destruction of the Sufi mazars. They (the mazars) were a part of the legacy of their forefathers. They were the signs of the town. The employee of the Cathedral Church said that the militants have taken over his Church and the abandoned Syrian Orthodox Cathedral. He further said that the militants removed the crucifix from the church and fixed the black Islamic Flag in its place."
From their tale, it was evident that the ISIS fighters apart from bulldozing mazars and Shia mosques killed Shias and especially those visiting the mazars. Anyone praying or reciting Fateha on the mazars was to them an apostate who must be killed without any consideration.
We have already seen that the news that the ISIS had asked the residents of Mosul to offer their daughters in Jiahd-al-Nikah to the fighters was not highlighted at all by the Urdu media. Perhaps embarrassment at the moral degradation of those you consider part of your own community.
It can be said that with this takfiri belief and intolerant ideology expounded and spread by our hard-line ulema, the ISIS will not spare the Shias or Sufi-minded Muslims or any ancient monument or mausoleum of archaeological importance in Iraq if they come to power. They have already demonstrated that resolve with the killings of Shias and those visiting the mazars (Sufi shrines), the destruction of mazars and Shia mosques which they call idols and by turning churches into their offices in their captured territories.
Therefore, the statement of the nurse praising the ISIS fighters should only be seen as a symptom of her Stockholm Syndrome and not as the real picture of the ISIS.
It should be remembered that till only a month back, the ISIS were the Al Qaeda-abandoned terrorists who were carrying out suicide bombings, random killings of Shias and other opponents and destruction of public and official buildings prohibited by Islam. They were known as Al Qaeda terrorists. How can their chief now become the caliphs of Muslims overnight?
The Urdu media is by and large secular and balanced in their approach towards sectarian and extremist ideologies and presents the two sides of an issue as Akhbar-e-Mashriq has also done. But when it comes to religion or dealing with someone supposedly religious, it gets confused. Urdu media should take a more mature approach while presenting and dealing with issues like the ISIS. Clearly a section of the Urdu Press has sympathies for ISIS. This requires a rethink. The earlier Muslims make up their mind about them the better. While Nuri al-Maliki is to blame for alienating Sunnis and behaving like a Shia dictator, the answer is not a Sunni band of terrorists loyal to the the Islamic Khilafat of Abu Bakr al-Baghdadi ruling parts of Iraq.
URL:
http://www.newageislam.com/the-war-within-islam/new-age-islam-edit-desk/indian-urdu-media-s-dilemma--to-support-or-not-to-support-the-islamic-state-of-iraq-and-greater-syria-and-the-islamic-khilafat-of-abu-bakr-al-baghdadi/d/97979
MANY INDIAN MUSLIMS ARE DEPRIVED OF SECULAR EDUCATION
Urdu Press in India catering to Moslems of India never made it secret as to where its sympathies
are
.
True there are honorable exceptions but by and large it never failed to support any obscurantist, fanatic demand of Moslems.
It was for separate electorates, then it was for dividing India
.
And then it did not take long in truncated India to raise demands with help of rabid appeasers hiding under fancy label of secularism.
Separate laws, reservations and quotas were granted . Only recently when Supreme court said no, the separate courts issuing fatwas receded into back ground.
All these and more irrational demands striking at the integration of India

f

urther promoted Hindu-Moslem divide.
Now there is an international movement not unlike khilafat of 1920s. The modern Caliphate movement is being led by ISIS backed by the Sunni S Arabia and Gulf states to the hilt.
ISIS started its career as offshoot of Al-Qaeda in Syria against Shiite Syrian leader Assad. Now it has grown and took over Islamic movement to restore Caliphate , in the process making Al-Qaeda appear moderate.
Indian Urdu press once again found another outfit to extend its support like it did to Khilafat in the past led by Muhammad Ali, Shaukat Ali brothers , very much supported by Mohan Das Gandhi. Incidentally Urdu press never spared an abuse, invective against Gandhi as long as he was alive even though he never failed to support any Moslem cause however detrimental to the nation . From Khilafat to Partiton and ma
ny actions like slaughter of cows in streets of India all received his endorsements to please Moslems.
Now a days it finds many things admirable about him
.
Perhaps
because
he provided path of least resistance .
Now ISIS wants to bring back the same
Caliphate. Even though the name 'Caliphate' is dropped perhaps as pointed out earlier due to reticence of the string pullers in Saudi Arabia, still aims and goals for dominance of their brand of Islam over all others remains intact.
Here presented above are some feelings of Indian Urdu Press and few comments which are note worthy along with it are enclosed. Only lament it appears, not that this new Caliphate movement is detrimental to human rights of Kafirs but it is sectarian, had it been inclusive it would be more powerful and then engraved invitations for it to invade India would have been sent much like appeals made to King of Afghanistan in the past.
India does not have to exert much to find where anti-national elements and movements spring from. Instead of wasting some Rs
100 crores in 'modernizing' Madrasas, the money would have been better spent in really educating Moslem children along with rest of students in india imparting history of
all inclusive civilization , and benevolent culture of India
that gave shelter to fleeing refugees from Parsis to Tibetans, along with building a prosperous society,
of which they are also rightful inheritors. That is an important way to disabuse minds of young Muslims in their formative years, rather than leaving them unprotected against indoctrination of Islamists, Jihadists and terror outfit ISIS supporting Urdu Press..