Indian exit polls say Narendra Modi's BJP will crush Congress coalition
As voting in world's biggest election ends after weeks of polling, though Nehru-Gandhi dynasty denies defeat looms for ruling party the polls point to landslide victory for BJP and NDA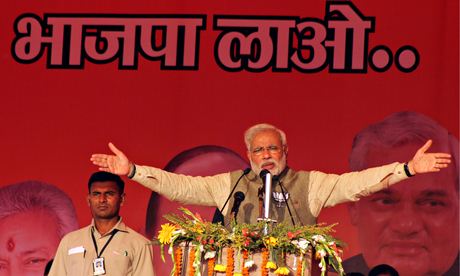 Narendra Modi addressing supporters. Exit polls point to a huge swing towards his Hindu nationalist BJP party. Photograph: Shashi Sharma/Demotix/Corbis
The final ballots have been cast in
India's record election
: 551 million people voted over a five-week period. Exit polls predict a new right-wing government under the Hindu nationalist hardliner
Narendra Modi
.
The final phase of voting in the last 41 constituencies ended at 6pm (12.30am GMT). The first exit polls were released soon afterwards, pointing to a huge swing towards Modi's Bharatiya Janata party (BJP).
The survey results backed forecasts before voting started on 7 April that the BJP – and its allies – should be able to reach a majority in parliament after trouncing the ruling Congress party.
But as the stock market hit a new record high in the hope that Modi can jumpstart the flagging economy, analysts urged caution because of notorious forecasting failures in 2004 and 2009.
The first full survey from CVoter predicted the BJP and its allies reaching a majority, while others released by the CNN-IBN and Headlines Today channels showed a rout for Congress in many states.
Shortly after polls closed for the last time, the election commission gave final figures for the world's biggest election, saying 551 million had voted – 130 million more than in 2009 – with turnout also at a record high of 66.38%. "These numbers may still go up marginally because of postal ballots and other factors," said Akshay Rout, director general of the election commission. Official results are due on Friday.
Attention earlier in the day had focused on the sacred city of Varanasi
where 63-year-old Modi
was standing as a candidate and hoping for a crowning victory on the final day of voting. In a video message, he paid tribute to the hundreds of thousands who "stood out in the scorching sun for hours to give strength to our democracy" over the last five weeks. He also praised Varanasi for "its peace, its goodwill and its unity".
His decision to stand in Varanasi was rich in religious symbolism and was seen as reinforcing his Hindu nationalist credentials during a campaign in which he steered clear of his customary hardline rhetoric. The four-times chief minister of the western state of Gujarat has campaigned on a pledge of clean government and development to revive the flagging economy after 10 years of left-leaning rule by the Congress party.
But he remains
a deeply polarising figure
over allegations that he failed to curb deadly anti-Muslim riots in Gujarat in 2002 in which at least 1,000 people died shortly after he came to power there.
"I have voted for the about-to-be PM of
India
,
Narendra Modi
," 35-year-old Setupati Tripathi told AFP after casting his ballot in the city, where Hindus are cremated on the banks of the sacred river Ganges. "With him winning the Varanasi seat, I am also confident about the development of this millennia-old city as a tourist destination," he added as bearded holy men dressed in saffron robes queued elsewhere to cast their votes.
The anti-corruption champion Arvind Kejriwal, from the new Aam Aadmi (Common Man) party, was also standing and hoped to upset Modi, who has spent little time in the city as he campaigned across the country.
Varanasi, about 420 miles (680km) east of Delhi, has a large Muslim population that would be expected to vote against Modi. "The way things have been shaping up in the last three days, everybody is saying Modi is losing," said Kejriwal, who has focused on a grassroots campaign.
Opinion polls show voters have turned against Congress over massive corruption scandals, spiralling inflation and a sharp economic slowdown in the last two years. Despite a decade of economic growth that has averaged 7.6% per year, a sharp slowdown since 2012 has badly hurt the party, run by the Nehru-Gandhi dynasty that has dominated post-independence politics in India.
Rahul Gandhi
, the latest member of the famous bloodline, who is leading his first national campaign, has denied that the party is staring at almost certain defeat.
Modi, the son of a tea-stall owner who rose through the BJP ranks, has derided his opponent as a reluctant shehzada (prince). Gandhi's lacklustre campaign has latterly been overshadowed by his sister Priyanka's electioneering.
The Gandhi siblings, joined by their mother and party president, Sonia, have hit back, accusing Modi of being dangerously divisive and prejudiced against the country's 150 million Muslims.
Shakeel Ahmed, a Congress party spokesman, stressed that opinion polls had failed to predict a victory for his party and its allies in 2004, when they ousted a BJP-led coalition, and in 2009. "We anticipate that we will be able to attain a majority with our alliance partners, but all calls will be taken by [the] party after final results are announced," he told a press conference in Delhi.
http://www.theguardian.com/world/2014/may/12/indian-election-modi-bjp-crush-congress-party
India's Voters Expected to Give Modi a Mandate
A polling official marks a finger of a woman with indelible ink before she casts her vote on the final day of polling in the northern Indian state of Uttar Pradesh.
Rajesh Kumar Singh/Associated Press
NEW DELHI — Exit polls released Monday suggested that voters in India's parliamentary election will deliver a mandate for the Bharatiya Janata Party's Narendra Modi, a Hindu nationalist who has promised to create manufacturing jobs and overhaul the country's infrastructure.
The country's stock market surged to a record high on the last day of voting on the news that the B.J.P. coalition could receive more than 272 of the lower house's 545 seats, enough to allow Mr. Modi to form a government without forging
a coalition with fractious regional power brokers
.
However, India's exit polls are not always reliable, having incorrectly predicted a B.J.P. victory in 2004, when the Indian National Congress won by a comfortable margin, and underestimated the Congress's winning margin in 2009. The official vote count will take place on Friday.
Turnout exceeded 66 percent, according to the election commission, before Monday's voters were included in the polls, setting a new benchmark in India. The previous record, of around 64 percent, was set in 1984, during a wave of emotion after the assassination of Prime Minister Indira Gandhi.
PLAY VIDEO
|
13:51
India at a Crossroads
A journey across the world's largest democracy. This year's race between the Indian National Congress and the Bharatiya Janata Party reveals deep divisions in society and politics.
Anindito Mukherjee/Reuters
Mr. Modi, 63, tapped into growing frustration with the Congress party, and the Gandhi Nehru political dynasty that has controlled the party since India's independence in 1947. In an interview published on Monday, he promised that he would come to power without "hangers-on or darbaris," a Hindi word that translates as "courtiers."
"Look at what is happening in the capital," he said. "Delhi is being controlled by a cabal that has vested interests in the status quo."
As the campaign entered its final weeks, Mr. Modi appeared confident of winning, and at rallies he began to focus his remarks on the need for a large margin of victory to bring change to India.
"If a vehicle is stuck in the mud, and the mud is strong, no matter how hard you push, you cannot pull it out," he said at a rally in the city of Roorkee last weekend. "If the whole country is in a deep ditch, I need strength, dear brothers and sisters, I need 300 seats to get it out."
Jai Pal Singh, a reporter for the Voice of the Nation, said voters' expectations of Mr. Modi were so high that they could prove dangerous if they were not met.
India polling station workers in Varanasi on Monday.
Roberto Schmidt/Agence France-Presse — Getty Images
"If the results are not up to the mark, if there will not be a drastic change in life — what shall I say — the emotions will break," Mr. Singh said.
After Monday's exit polls suggested that the Congress's share of parliamentary seats might fall below 100, party officials said that the results were unreliable. In a television appearance, the party spokesman Randeep Surjewala said that Mr. Modi's campaign had stirred up tensions between Hindus and Muslims.
"He may have managed to get some support in some pockets, but in the long term it is India which lost because of this rabid polarization," Mr. Surjewala said.
Markets, however, responded positively. Since December, when local elections pointed to a national B.J.P. victory, stock market indexes have risen about 12 percent. That trend continued on Monday, when the Sensex index surged 556 points to 23,551, and the 50-share Nifty benchmark climbed to a record 7,020.05 points. The Indian rupee also rose to its strongest level since July.
Amisha Vora, joint managing director at Prabhudas Lilladher Group, a Mumbai-based brokerage, said that markets were reacting to the prospect that Mr. Modi "will have a lot of discretion to make policy changes."
"I wouldn't say that it is the B.J.P. regime that the markets are so bullish about," Ms. Vora said. "At this point of time it seems that they are rather bullish about Mr. Modi."
Ellen Barry reported from New Delhi, and Neha Thirani Bagri from Mumbai. Hari Kumar contributed reporting from New Delhi.
http://www.nytimes.com/2014/05/13/world/asia/anticipating-strong-mandate-for-modi-indias-stock-market-surges.html?_r=0
India election: Voters expect big changes from frontrunner Modi (+video)
If Narendra Modi's right-wing BJP-led coalition wins an outright majority in India's national election, it will be thanks to voters in bellwether states like Uttar Pradesh.
If Narendra Modi pulls off the election victory that
exit polls have predicted
, he will have built it on his popularity in towns like Mirzapur, a dilapidated county seat where nothing works.
Ads by Google
For All Election Updates
Tune in To India Post Live.
Subscribe Today to the Monitor
The BJP-led NDA coalition is set to return to power in India led by its prime ministerial aspirant Narendra Modi, ending a decade of Congress-led rule, exit polls said Monday...
"We desperately need sewer lines, all our irrigation canals are silted up, the water system was built in 1914 and there are hardly any jobs even for educated youngsters," says Rajkumari Khatri, head of the town council, sitting cross-legged in the breezy shade of a Hindu temple porch with a group of fellow Modi supporters on the last day of India's elections. Official results will be announced Friday.
"If Modi wins," she adds, "we can expect some development and industries that would create jobs" in this town of 250,000 on the banks of the Ganges river.
Here in the Hindu heartland, 500 miles southeast of the capital, Delhi, Mr. Modi's relentless insistence on his ability to bring work, electricity, water, and good roads to the myriad towns and villages nationwide that lack such basics found a ready audience.
Uttar Pradesh, the state in which Mirzapur lies, is India's most populous state, electing 80 of parliament's 543 members. "It is critical that Modi does very well in Uttar Pradesh," says Ajoy Bose, author of a book on the state's politics. Exit polls suggest that the coalition led by the Bharata Janata Party, which Modi heads, may have won as many as 45 of the state's seats, up from nine at the 2009 elections.
That apparent surge in support reflects rural Indian voters' disenchantment with the Congress Party that has ruled the country for the past decade. After delivering an initial spurt of economic growth, the party has been buffeted in recent years by corruption scandals and rising food prices.
'Why not give him a chance?'
"I heard on TV that if Modi comes, good days will come, so why not give him a chance?" asks Sudeshwari Devi, a white-haired woman who was voting in her 13th general election at a whitewashed schoolhouse in Varanasi, India's holy city.
Younger voters are also enthused by Modi's promises – and fed up with their current government. "Sometimes we get no electricity all day," complained first-time voter Rubi Bhola, a recently graduated doctor. "And the roads need mending. I like Narendra Modi and what he has done for Gujarat."
Experts
debate the merits of the business-friendly development model
that Modi has pursued in the western state of Gujarat during his 12 years as chief minister there. But the state is undeniably more prosperous than most of its counterparts, its government has attracted large amounts of investment from both local and foreign businesses, and rural residents have seen some basic services improve.
A dark shadow, however, hangs over India's leader-in-waiting – Hindu riots in Gujarat 2002 in which around 1,000 Muslims were massacred. A Supreme Court investigation found that he did not encourage the rioters, as some have alleged, but suspicions that he could have done more to stop them continue to sully his reputation.
'He believes in dividing society'
Such suspicions were uppermost in the mind of Siraj Ahmed Khan, a Muslim carpet weaver, as he stood in the shade of a spreading tree on Monday after casting his vote in the village of Basai Kalam, not far from Mirzapur. He said he had voted for Congress.
"We cannot have such a radical and dogmatic person as prime minister," he says, referring to Modi. "He believes in dividing society on religious grounds and if he wins, Muslims won't get anything, we'll be left out of any progress."
Mr. Khan is bound by a thread, literally, to the Hindus who live at the other end of his village, down a warren of narrow lanes. Hindu women spin and sell the yarn that Khan and his fellow Muslims weave into carpets.
Those women's husbands and sons, standing in the shade of another tree after casting their own votes for a party allied with the BJP, shrugged off the possibility of heightened religious tensions in their district should Modi come to power.
Modi himself has discounted such fears, promising to be the leader of "one India." Jayprakash Yadav, a young sales representative for a machinery company, says he does not believe that massacres such as the one that occurred in Gujarat could happen again in his village.
Nor was he – or his Hindu neighbors – hoping that Modi would win power for religious reasons, Mr. Yadav insisted. "We are voting for him because of all the jobs he created in Gujarat," he explained. "He'll do the same all over Uttar Pradesh and India."
Back in Mirzapur, sitting next to Ms. Khatri in the temple porch, discount airline executive Atul Mohan looks forward to better days for his hometown.
"No businessmen want to come here at the moment because we lack infrastructure, electricity and confidence," he lamented. "Modi is new and he has a proven track record. If he does just 50 percent of what he has done for Gujarat it will be enough for us."
http://www.csmonitor.com/World/Asia-South-Central/2014/0512/India-election-Voters-expect-big-changes-from-frontrunner-Modi-video
--
S. Kalyanaraman